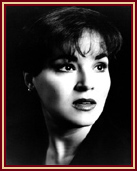 Havana City was the birthplace of Mayda Prado. At a very young age Ms. Prado demonstrated a remarkable musical talent with vocal maturity beyond her age. So when her family moved to the United States, her gifts were brought to the attention of Kurt Schlossberger, a distinguished teacher from Munich with whom her studies began. He not only introduced her to the classical Italian songs and the refined art of Lieder, but also helped her develop musically as well as intellectually. Under his guidance, she began to listen to the vast collection of vocal and instrumental recordings in his library which included among others singers Rosa Ponselle, Enrico Caruso, Tito Schipa, Victoria de los Angeles, Elizabeth Schwarzkopf, Heinrich Schlusnus and Julius Patzak.
When she was fourteen, her promising talent captured Robert Merrill's attention and he brought her to study with his famous teacher, Samuel Margolis in New York City. In the beginning, the lessons were sponsored by Broadway producer and composer, Buddy Kaye who had already begun making plans for her career in musicals and in the movies. Yet, after six months, with the approval of Maestros Schlossberger and Margolis, Ms. Prado decided to concentrate her studies on opera and the concert stage. This hastened her youthful debut as Nedda in "I Pagliacci" and Musetta in "La Bohème" with a local opera company.
During these years, Estelle Liebling, pupil of one of the most important voice teachers of the 19th Century, Mathilde Marchesi, heard the young singer in Margolis' studio and invited her to perform a series of concerts singing the leading role in Puccini's Madame Butterfly. Subsequently, she was chosen by Maria Callas, among hundreds of singers, to participate in her Master Classes at The Juilliard School. It was here that Ms. Prado pursued her education in 1984 under the expertise of Daniel Ferro, completing a six-year course in three years and graduating in 1987 with both a Bachelor and a Master of Music. which lead to Doctoral Studies. Wishing to perfect her operatic repertoire, Ms. Prado later went to Milan where she worked closely with the legendary soprano, Gina Cigna.
Prior to winning the 1990 Enrico Caruso International Award; the 1991 Gran Teatro de La Habana Award; Mayda Prado's other achievements included numerous awards, prizes and distinctions from the Martha Baird Rockefeller Foundation; The National Opera Institute; The Liederkranz Foundation; The John Hay Whitney Foundation; The Spanish Institute of New York (Lucrezia Bori Award); The Metropolitan Opera Association Artists Funds; the 1982 American Opera Auditions and was Finalist in the Chicago Lyric Opera and Baltimore Opera Auditions. She is also proud of being afforded the opportunity to serve as Affiliate Artist where sponsored by the National Endowment for the Arts with residence at the Inter-American University in Puerto Rico, she gave a series of Master Classes and informal performances throughout the island.
Some of the opera companies with which Ms. Prado has sung are: Opera Theater of St. Louis; Dayton and Toledo Opera; Ópera de Colombia; Metropolitan Opera of New York; Metropolitan Opera Young Artists Program; State Opera of Connecticut; Long Island Lyric Opera; Staten Island Opera; Garden State Opera; Opera of New Jersey and Ópera de Cuba.
Her repertoire reveals a soprano of remarkable versatility: from Mozart's the Countess Almaviva and Donna Elvira, to Verdi's Violetta, Desdemona, Amelia and Leonora, from Massenet's Manon to Mascagni's Suzel and Santuzza, from Haydn's Sandrina to Falla's Salud and el Trujumán, from Puccini's Mimi, Cio-cio-san, Manon and Liú to Offenbach's Antonia, Mayda Prado's repertoire encompasses more than 25 roles.
She has appeared regularly as a concert soloist with many orchestras including the St. Louis Symphony; the London Symphony; the Nova Scotia Symphony; the St. John Atlantic Symphony; la Filarmónica de Caracas; the Brooklyn Philharmonic; the North Jersey Symphony; the Bergen Philharmonic and the Eastern Philharmonic of Greensboro, North Carolina. Her concert repertoire includes Beethoven's Ninth Symphony, Berg's Seven Early Songs, Berlioz's Les nuits d'été, Falla's El amor brujo, Strauss' Vier letzte Lieder, Mahler's Fourth Symphony, Berio's Folk Songs, Montsalvatge's Cinco invocaciones al Crucificado and Cinco canciones negras, and Turina's Canto a Sevilla as well as other orchestral selections.
In addition to her appearances in opera and concert, Ms. Prado has never forgotten her first love: the Lied. This great art was part of the training she received from her first teacher and it has been very important for her to include in tours, recitals of Schubert, Schumann, Brahms, Mahler, Strauss and Hugo Wolf. Being an acclaimed interpreter of Spanish and Latin-American songs, she is at home with and loves the compositions of Fauré, Debussy, Poulenc and Samuel Barber.
As a recitalist she has performed in Germany, Switzerland, Italy, the Caribbean, Latin and North America in world famous concert halls such as: Carnegie Hall; Weill Concert Hall; Alice Tully Hall and The Bruno Walter Auditorium in Lincoln Center; Town Hall; Merkin Hall; Hunter College Auditorium; C.W.Post College; Casa Italiana of Columbia University; The Henry Morrison Flagler Museum, Palm Beach, Florida; The Phillips Collection; The Washington, D.C. Cathedral; Instituto de Cultura, San Juan, Puerto Rico; Teatro Nacional and Teatro Teresa Carreño in Caracas; Teatro Ángela Peralta, Mazatlán, México; Sala Luis Ángel Arango in Bogotá, Colombia; Gran Teatro de La Habana, Cuba; Accademia di Santa Cecilia in Rome and Amerika Haus in Munich. Many of her performances have been broadcasted over television and radio.
Ms. Prado has appeared in such festivals as: The Summer Festival of Greensboro; The Peterloon Summer Festival; The Stamford Festival of the Arts; Brooklyn Arts Festival; Focus Festival and The Liederabend at The Juilliard Theater in Lincoln Center; Garden State Summer Festival and Festival Internacional Ernesto Lecuona, participating not only as a soloist but as a judge in the International Vocal Competition. She was also one of the international judges at the Alejandro García Caturla Vocal and Piano Competition in Havana, Cuba.
Distinguished contemporary composers such as: Harold Gramatges, Hilario González, Tulio Peramo, Eduardo Morales, Luis Aguirre, José Raúl Bernardo, Luis Felipe Ramón y Rivera, Stefano Scotti, Luigi Dell'Orefice, Frank DiGiacomo and Caroline Lloyd have honored her by dedicating especially to her a series of cycles of songs and the roles of Laia, Andromache and Doña Rosita in the operas: "The Dybbuck", "The Trojan Women" (DiGiacomo) and "Doña Rosita la Soltera" (Lloyd).
During the celebration of the Fiftieth Anniversary of the United Nations, she was honored with an invitation to join the festivities by performing a recital for their members. Not too long ago, Ms. Prado completed a trilogy of programs given at The Spanish Institute in New York, dedicated to Cuban classical songs encompassing the 19th and 20th Centuries. Most of these compositions were directly from the archives of El Museo Nacional de la Música in Cuba. Of equal importance was the inauguration of the Baisley Powell Elebash Recital Hall of the Graduate Center (CUNY) where she organized and performed in a historic concert of vocal, piano and chamber music of rarely heard Cuban composers.
On September 2002, LA7, a national Italian TV broadcaster, sent journalist, Damiano Ficoneri, to interview her at the Juilliard School for a special series of programs on Maria Callas broadcasted in Italy during the 25th Anniversary of the great Diva's demise. Again in 2003, Ms. Prado took part in the documentary filmed by the International RAI (Radio Televisione Italiana) broadcasted in both Italy and the United States honoring Callas.
The Diccionario de la Música Española e Hispanoamericana has honored Mayda Prado's contribution to music by including a fine biography in the VIII Volume of its first edition.
After an incredibly impactful career tirelessly teaching and mentoring musicians around the world, Maestra Mayda Prado passed away on December 16, 2022, in Cuernavaca, Mexico. She is dearly missed and loved by her many students, friends, and family who pray for the peace of her kind soul. Our special thanks to Spanish composer Eduardo Morales-Caso for his tribute to the wonderful Maestra Mayda Prado!